Last Updated on Tuesday, 9 March, 2021 at 9:38 am by Andre Camilleri
A European Commission proposal for pay transparency will mean that companies will have to publish what their gender pay gaps are, and it is only for objective reasons such as those related to productivity that they can pay men and women differently, European Commissioner Helena Dalli explained during a webinar organised on Monday.
The webinar was by the European Commission itself in collaboration with The Malta Independent on the occasion of International Women's Day and can be viewed in full below.
The European Commission last week presented a proposal on pay transparency to ensure that women and men in the EU get equal pay for equal work. A political priority of President von der Leyen, the proposal sets out pay transparency measures, such as pay information for job seekers, a right to know the pay levels for workers doing the same work, as well as gender pay gap reporting obligations for big companies.
The proposal also strengthens the tools for workers to claim their rights and facilitates access to justice. Employers will not be allowed to ask job seekers for their pay history and they will have to provide pay related anonymised data upon employee request. Employees will also have the right to compensation for discrimination in pay.
European Commissioner for Equality Helena Dalli was the main speaker for the webinar, while the Malta Employers' Association Joe Farrugia, DIER's Diane Vella Muscat, the Chamber of Commerce's Marisa Xuereb, and the General Workers' Union's Josef Bugeja were all panellists for the ensuing discussions.
Elena Grech, Head of Representation of the European Commission, opened the webiner while Rachel Attard moderated the panel.
Explaining the Commission's proposal, Dalli said that this is part of a strategy for tangible change towards gender equality by 2025 adopted by the Commission a bit before the pandemic stuck. The relevance of this strategy, Dalli said, has now increased.
The proposals will require major companies to declare differences in pay between genders and remedy when the difference in such a pay is not justified.
It will not make companies publish all individual salaries and it will not mean that all pays must suddenly become the same. She said that there can be differences, but only if they are for objective reasons – such as, for instance, productivity – and not directly related to gender.
On their part, the panellists expressed positive words towards the proposed reform.
Xuereb said that while she agrees, this is only a small part of dealing with the gender pay gap – to which Dalli replied that this is indeed a small part and that there are other issues which must be, and which are being, handled such as, for example, the gender pension gap.
Bugeja also agreed with the proposal, saying that it addresses part of the problem where there are discrepancies based on gender discrimination – and he noted that the union has seen cases of this.
Vella Muscat meanwhile also expressed positivity towards the reform, and said that it will complement another directive on transparency on the workplace which Malta must implement by next year.
Farrugia meanwhile said that the idea is a good one on the basis that every discrimination or differing pay scale which is not based on objective elements must be condemned.
Bugeja said that there have been cases where employers outright told the union that a pay difference for work of the same value was because the worker was a woman – something which they took up to the tribunal and won.
He said that a positive aspect of this proposal is that it is the employer who needs to prove that there is no discrepancy, not the employee.
Farrugia meanwhile said that the biggest element that can cause worry is this onus of proof on the employer – not because of these particular circumstances, but because this onus may spread to other things.
He said that the fact that the proposal provides for objective differences in pay is important, as for all we know there may be cases where woman are paid more than men on this basis.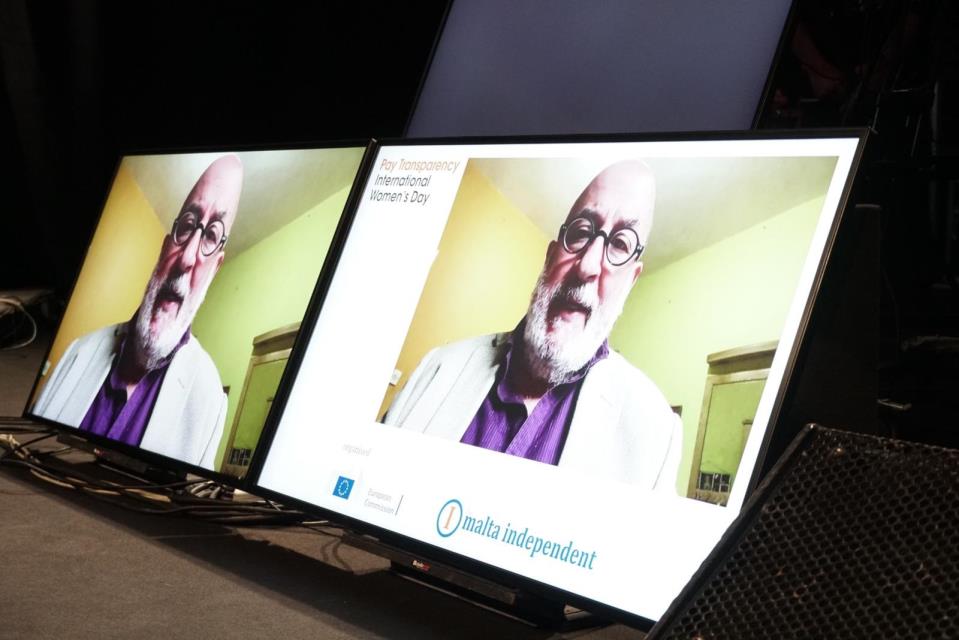 As the debate continued, Vella Muscat noted that the difficulty in such a directive is that there may be different offshoots – such as when workers are sub-contracted to join a particular company but end up earning less than the employees of that particular company – which have to be regulated as well.
Dalli observed that the proposal – which is still just that as it has to go through the European Parliament and Council – will set a minimum standard, and it is then up to the respective governments to implement them in the most effective manner.
The information which would be made public, Dalli explained, is pertaining to the gender pay gap of that said company, not what each individual earns.
Vella Muscat observed that once the directive comes out, every company has to implement it. They have two years to discuss it with stakeholders and implement it, with the biggest challenge being to strike a balance between employers and employees in this regard.