Last Updated on Wednesday, 17 February, 2021 at 2:07 pm by Andre Camilleri
Social media platforms have replaced the old town squares where people share their personal information, only now it is happening digitally, MEP Alex Agius Saliba said on Wednesday.
This was remarked when the MEP was presenting the results of a preliminary study on digital rights, which delves into modern literature on the public's use of digital platforms as well as analyses people's attitude towards digital media through quantitative analysis.
"Social media has become as important as water and electricity. The aim of this preliminary study is to make users more aware of their rights," the MEP said.
"We are in a fast-moving world and no one has time to read the privacy agreements which are extremely long," Saliba noted.
He also said that some of these tech-companies treat consumers as products, as even though they give you free access to use their website, you are providing them with your own data.
The fact that social media is also helping us build a public opinion is also something concerning, and should be addressed, he said.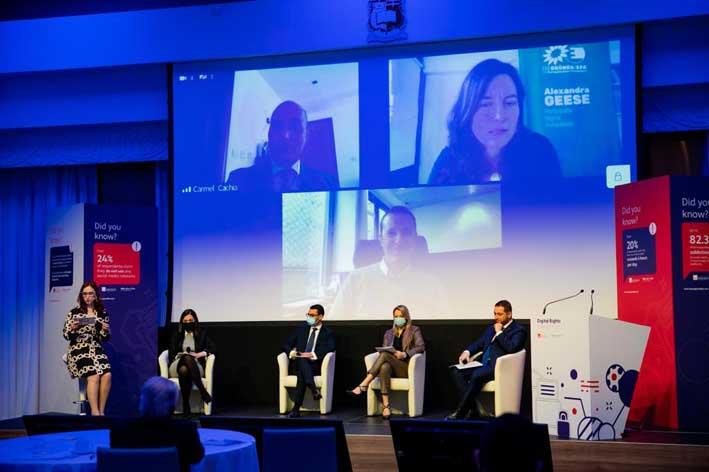 The statistics
The 400 responses in the survey showed that Facebook and Instagram are the social media platforms used the most.
The results showed that 79.4% use social media to keep in touch with family and friends, while 57.8% use it to check news and to stay updated about what is going on around them.
Most users use social media daily (93.5%), and 52.4% of users under 34 and 46.8% of users aged between 25-34 reported using social media for at least three hours a day.
Over 20% of the respondents use social media over four hours per day, but 24% said that they do not use any social media networks. The survey indicates that this is related to a lack of digital literacy.
The younger age groups appear to be prepared to disclose information about themselves more readily than older generations.
When entering a webpage, 72.5% of respondents said that they do not read the privacy agreement at all, with the MEP noting that the length of the privacy agreement may be an issue in this regard.
This is despite the fact that over 93.1% of respondents said that privacy is important or very important for them.
The results, Agius Saliba said, show evidence of addictive behaviour in the use of social media, and something must be done to address this, as the business platform they use is "addictive by design".